The College of Pharmacy
A Journey of Discovery
Nisha Kakwani Pharm.D.'27 expands her comfort zone at URI.
Student Access
The URI Learning Experience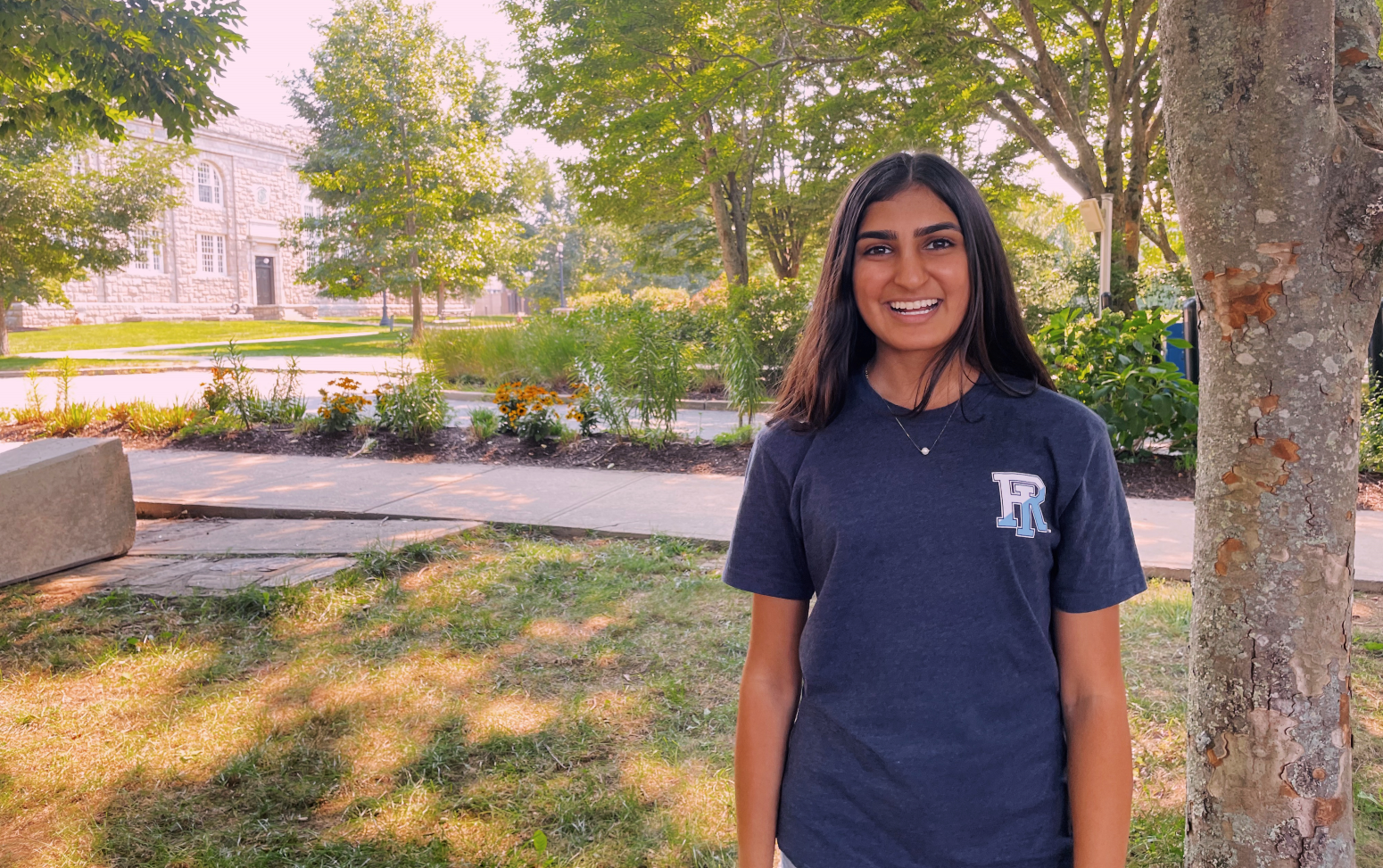 How does a shy, studious high school student become a high-performing leader at URI?
"URI has given me the opportunity to become the person I've always wanted to be—passionate, outgoing, and eager to learn," said Nisha Kakwani Pharm.D.'27. "The Pharm.D. is a great program with a close-knit community, and there are so many ways to get involved within the College of Pharmacy and the University as a whole."
Kakwani grew up in New Jersey and was evaluating a number of selective pharmacy programs as a high school student during the Covid pandemic.
"Even before I came to tour URI, I attended many College of Pharmacy Zoom Q&A sessions and alumni panels where I was able to connect with professors, alumni, and students," said Kakwani. "Many of the professors and students even remembered my name from previous Zoom sessions. The personal attention and kindness were something I hadn't seen at other universities.
"Going to college out of state had been my dream after living in the same small town my entire life. With the scholarships from URI, my dream was able to come true. Not only do they provide students with scholarships as soon as they are accepted, but there are additional scholarships I can apply for throughout my college career."
Kakwani is minoring in biology and plans on pursuing the dual-degree Pharm.D./M.B.A.
"I've grown in just two years of being a student here. I've really stepped outside of my comfort zone and gotten involved on campus. I give 100% to classes and academics and still find time to participate in research, pharmacy organizations, and be a mentor and leader on campus."
She serves as a campus tour guide, a resident academic mentor, and URI 101 mentor, helping first-year Pharm.D. students adjust to college life. She is very involved with College of Pharmacy professional student organizations and writes for The Good 5 Cent Cigar. Her undergraduate research in Professor Jyothi Menon's lab was the basis for her College of Pharmacy Research Symposium project—she won third place.
This past summer, Kakwani served as a global labeling lead intern at Pfizer in regulatory affairs.
"This summer at Pfizer, I helped update product labeling documents for the pain and inflammation therapeutic area," said Kakwani. "My favorite parts of the internship were creating a journal club presentation for a new, innovative combination drug and collaborating with Pfizer colleagues across various departments and global offices!"
While Kakwani is passionate about clinical pharmacy, her experiences at URI have led to an interest in health care disparities and specifically, pharmacogenomics. She is fascinated by how genes affect an individual's response to different medications, and how precision medicine can address health disparity gaps by tailoring treatments to a patient's genetic makeup, lifestyle, and environment. She wants to create innovative products and technologies that could change the future of health care.