The College of Arts and Sciences
A spirit of optimism
Patrice Pierre '22 wants to make a positive impact on economically disadvantaged countries around the world.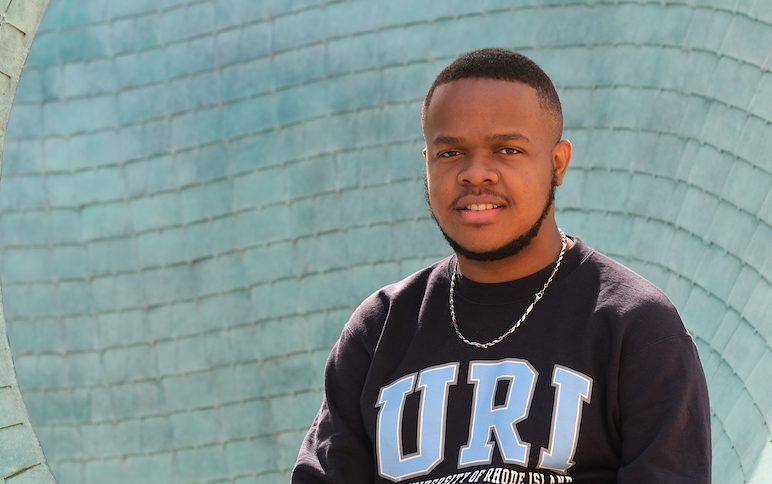 Education is key to his goal
Patrice Pierre '22 dreams of earning a Ph.D. in economics and working for the World Bank. He hopes to reduce poverty and promote sustainable growth in developing countries, like his family home of Haiti.
"I was born in Lowell, Massachusetts, but my family moved back to Haiti when I was three," said Pierre. "When I was growing up there was a very famous Haitian economist on TV. I loved listening to him, and he is the reason I became interested in economics. I realized I could help people."
Pierre wanted to go to college in the U.S., so his high school English teacher helped him with the college search and application process.
"I knew about URI from my uncle who lives in Rhode Island, and I liked the idea of being near family," said Pierre. "When I came to URI, I wanted to understand why my parents' homeland was so far behind and what could be done to solve it, which is why I am double majoring in economics and political science.
"The scholarships I received to attend URI made it more affordable than the other schools that accepted me. With the continued political instability in Haiti and the more recent COVID lockdowns, my parents' finances have been deeply affected and made the scholarships even more important."
While he lived on campus in his first year and a half, he moved to his uncle's home in Warwick when COVID sent all URI students home to learn online, and he continues to commute.
"I tend to be more introverted, but I will forever love having lived on campus," said Pierre. "I joined the economics student organization, and I am an academic tutor. I've made a lot of friends through my class projects and by working in campus rec.
"I've also had the opportunity to work directly on projects with faculty members. Last year, I worked with Professor Theresa Devine on an exit survey for seniors, but the project was canceled due to COVID. I've also worked with Professors Richard McIntyre and Shanna Pearson on a project for the South Kingston Housing Authority. We are exploring the best management practices in public housing from across the country, which can help shape South Kingston practices now and in the future."
His dedication to his studies was recently recognized when he received the Diversity and Inclusive Excellence Award for undergraduate academic excellence. His intellectual drive, perseverance, and optimistic outlook may just be the keys to help him improve economic conditions for developing countries like Haiti.