The College of Pharmacy
Curiosity drives her life's work
Professor Fatemeh Akhlaghi is a teacher, researcher, and mentor
Transformative Faculty Leadership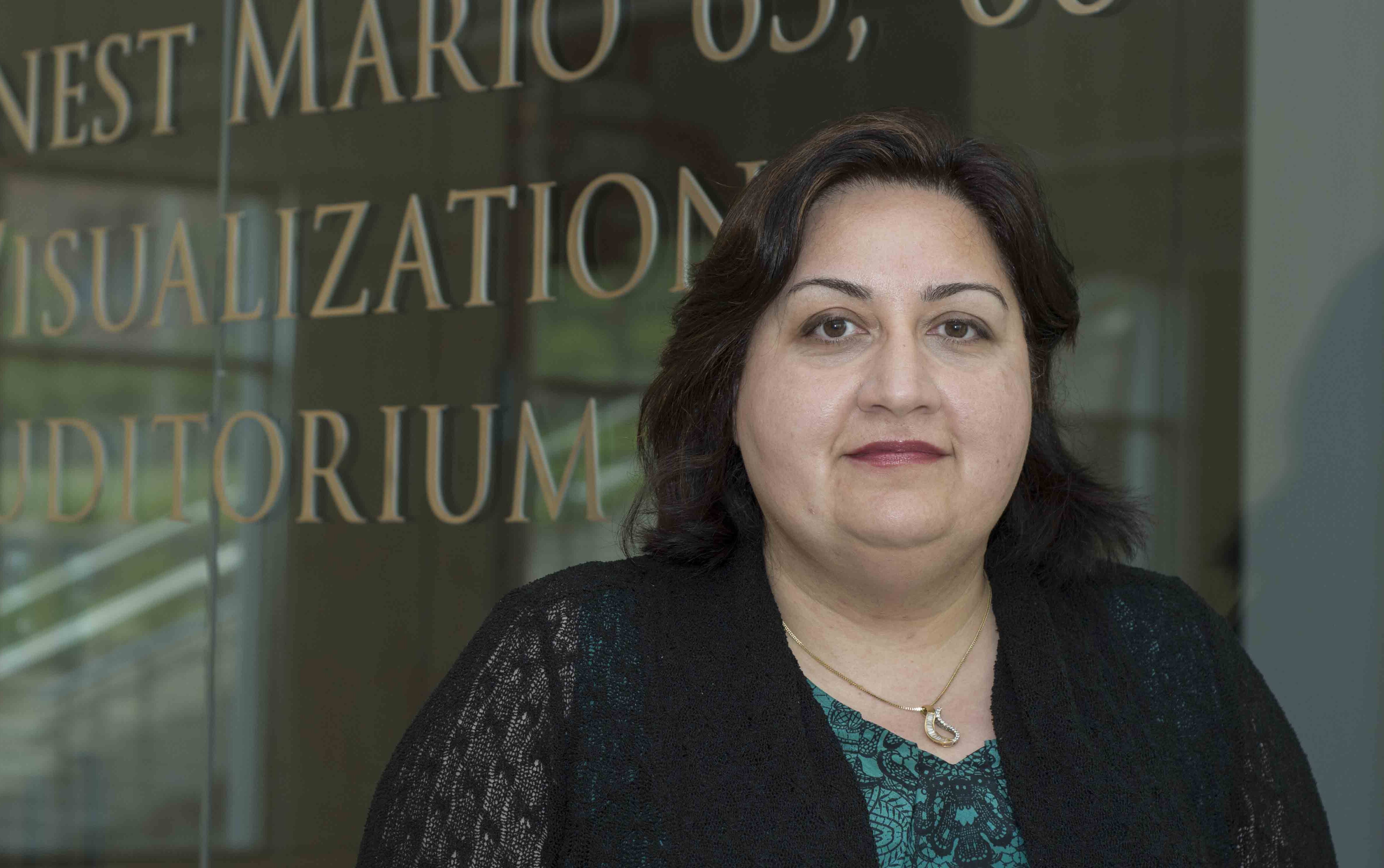 Professor's lab produces industry leaders alongside innovative treatments
When she's not in the lab or the classroom, Professor Fatemeh Akhlaghi may be relaxing with a book on psychology or watching a documentary on microexpressions. That might not seem unusual, except her field of expertise is pharmaceutics research.
"I love learning something new," said Akhlaghi. "For about three years, when I wanted to unwind after work, I was reading everything I could about psychology. I am still fascinated with it."
Her innate curiosity has proven to be an asset in her field.  She studies pharmacokinetics–how the body's biological processes affect medication–and she primarily focuses on patients who have Type 2 diabetes, fatty liver disease, alcohol use disorder, or organ transplants.
Her accomplishments earned her the URI College of Pharmacy's Ernest Mario Distinguished Chair in Pharmaceutics in 2014.
Her path to URI has been a global adventure. Growing up in Iran, both her father and uncle were medical doctors. "I liked chemistry and science, but I didn't like blood," said Akhlaghi. "I knew I didn't want to be a doctor; I knew early on that I wanted to go into drug development."
She earned her Pharm.D. in Iran and knew she needed a Ph.D. to become a researcher and professor. Australia was recruiting Iranian graduate students at the time and Akhlaghi was accepted into a Ph.D. program at the University of Sydney. At the completion of her Ph.D., she took a postdoctoral research position there.
"When I started looking for work, my mentor strongly recommended that I seek a job in the U.S. or Great Britain," explained Akhlaghi. "An opportunity at the University of Cambridge gave me excellent experience and credentials. And then I found the position at URI."
Currently, she is studying the safety and efficacy of a drug developed by Pfizer that may reduce the craving for alcohol for people with alcohol use disorder (AUD), a disease that affects an estimated 140 million globally. In collaboration with the National Institutes of Health (NIH), Akhlaghi ran an initial study for 12 people with AUD, and the results were promising.
A $1.65 million grant from a branch of the NIH is now funding a placebo-controlled clinical trial that is a partnership among Akhlaghi, Pfizer, and Dr. Lorenzo Leggio, chief of NIH's Section on Clinical Psychoneuroendocrinology and Neuropsychopharmacology.
While Akhlaghi gains great satisfaction from her research, she is most proud of her students. "I had very good mentors in Sydney," she said. "I am thrilled to see so many of my former students holding leadership roles in the pharmaceutical industry in the U.S. and around the world."
She works closely with College of Pharmacy Dean E. Paul Larrat to attract outstanding faculty whose innovative research brings in new funding and attracts talented graduate students.
"The funding from the Ernest Mario Chair is helping us build an amazing team within the Department of Biomedical and Pharmaceutical Sciences. It provides flexibility as we offer start-up packages and support both faculty and graduate students in their academic pursuits."

–Professor Fatemeh Akhlaghi
These new faculty have brought in more than $6 million in research awards, and their cutting-edge research includes a variety of advanced drug delivery systems, such as a laser-based vaccine system that improves delivery and safety, particularly for children.
The funding also assists Akhlaghi's Clinical Pharmacokinetics Laboratory, where they are devising methods to improve personalized medicine, which personalizes medical treatments to individual characteristics.
Akhlaghi's natural curiosity has driven her to pursue knowledge, and it has benefited society as she focuses on saving lives.