Talent Development broadens his horizons
Alfred Rodriguez '12 M.S. '14 is building a better life
Student Access
Innovative and Distinctive Programs
The URI Learning Experience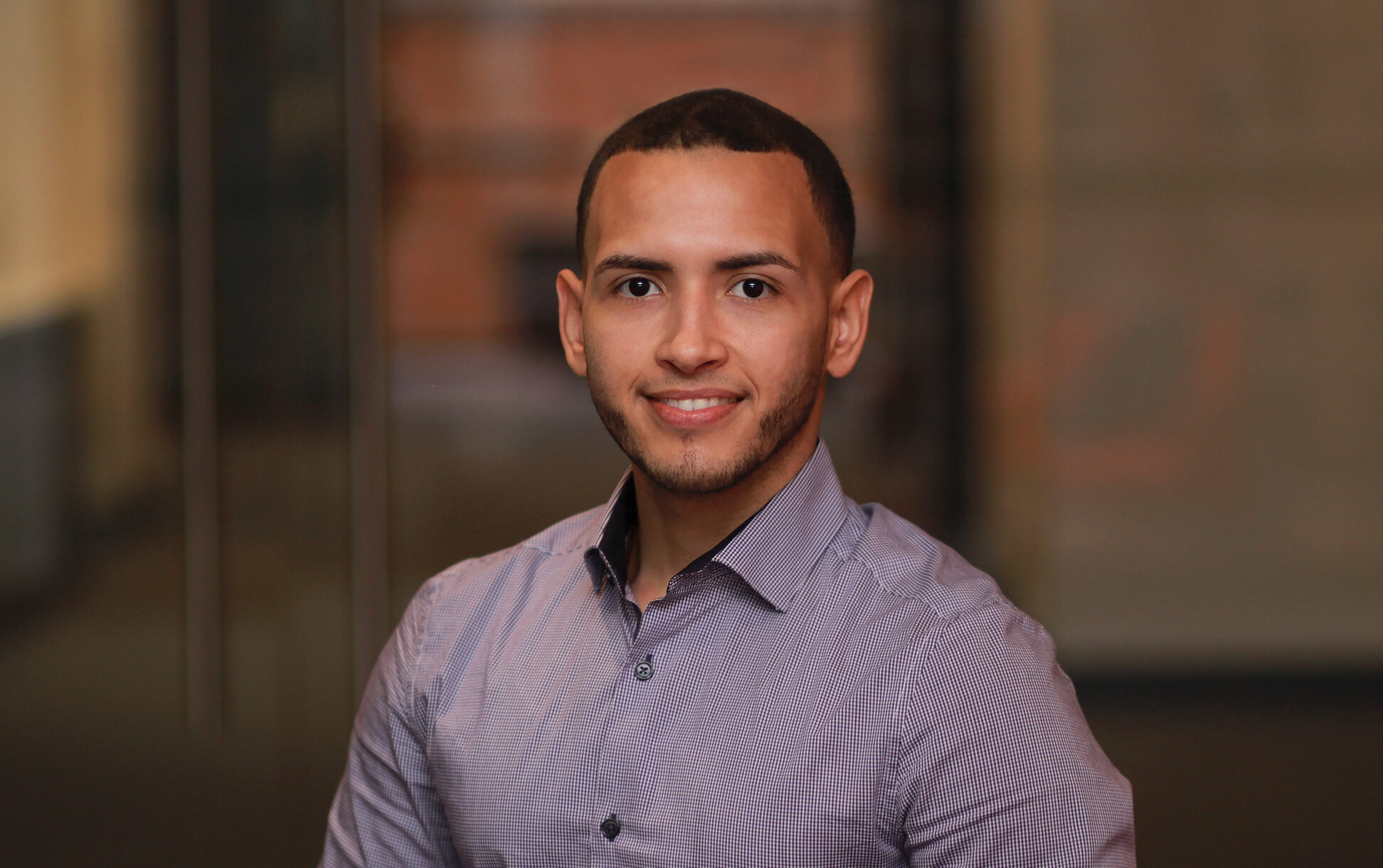 TD Program provides a way in
Alfred Rodriguez is building a better life for himself and others.
It started when Professor Harold Knickle and Charles "Chuck" Watson, from the College of Engineering, visited the Providence Academy of International Studies to discuss career opportunities. Alfred Rodriguez, a junior, was in the audience when the speakers offered a free academic program at URI that included transportation. He registered.
This was exactly the type of opportunity that had motivated him to leave his parents and siblings in the Dominican Republic when he was 15 and move to his grandmother's in Providence.
"The program sparked my interest, and ultimately I decided to study engineering," said Rodriguez.
Rodriguez was participating in URI's Northeast Louis Stokes Alliance for Minority Participation (NELSAMP) program, funded by the National Science Foundation (NSF) to encourage underrepresented students to enter and succeed in science, technology, engineering, and mathematics (STEM) fields.
The Talent Development Program
While Rodriguez was interested in engineering, he knew there would be challenges. English was his second language, and he had some catching up to do. His academic preparation required that he enter URI through the Talent Development (TD) program.
"TD was challenging and rewarding. I came the summer before I started college and they set high expectations—it was a fast-paced program. It broke me into college life and I successfully completed the program. It shaped my attitude about school and helped me earn my degree."

–Alfred Rodriguez '12 M.S. '14
Engineering Mentorship
Once he was accepted into the civil and environmental engineering program, Rodriguez benefited from the 500 Club Scholarship from the College of Engineering. The scholarship, established to recruit and support students of color, required strict academic standards and Rodriguez was the first recipient to graduate.
Rodriguez credits his engineering professors with being "very helpful." He regularly visited them during office hours.
"Professors Vinka Oyanedel-Craver and Wayne Lee knew I needed to work and gave me a part-time job as a research assistant," said Rodriguez. "I helped the graduate assistants with their experiments on clean water."
His first internship after his sophomore year was with Rhode Island Department of Transportation (RI DOT).
"Then Chuck Watson introduced me to some people at Gilbane Construction and recommended me for a summer internship after my junior year," explained Rodriguez. "I worked on the airport garage and walkway for Gilbane. I liked construction management and decided that was what I wanted to do. Gilbane offered me a job after graduation.
"Both RI DOT and Gilbane encouraged me and gave me flexibility so that I could take summer courses and start earning my master's degree through URI's fast-track program while I was still an undergraduate. I finished it while working for Gilbane."
Rodriguez's horizons expanded at URI.
"I have strong connections across the country with my friends from URI and people I met through the Society of Hispanic Professional Engineers," said Rodriguez. "I come back to URI to recruit for Gilbane. Dean Wright walked me through The Fascitelli Center for Advanced Engineering—I felt proud and jealous at the same time. It is a beautiful building. I wish I were studying there now.
"I found what I love to do at URI. I enjoy using my construction management skills to build things that touch people's lives. It is very satisfying to work with end-users to create a building that supports society."
Rodriguez lives in Providence with his "beautiful wife, Vislania Cabrera," and their young son, Adriel.
"I tell young people in the confirmation class I teach that 'You can do it.' It is important to have role models," said Rodriguez. "Some people might not think it's possible to be an engineer and I like to encourage them. I have seen students change over time and decide they can do something they didn't think was possible. That is very rewarding."