Unique teaching approach drives student success
Bryan Dewsbury teaches his students that they can be better than they imagined
Transformative Faculty Leadership
The URI Learning Experience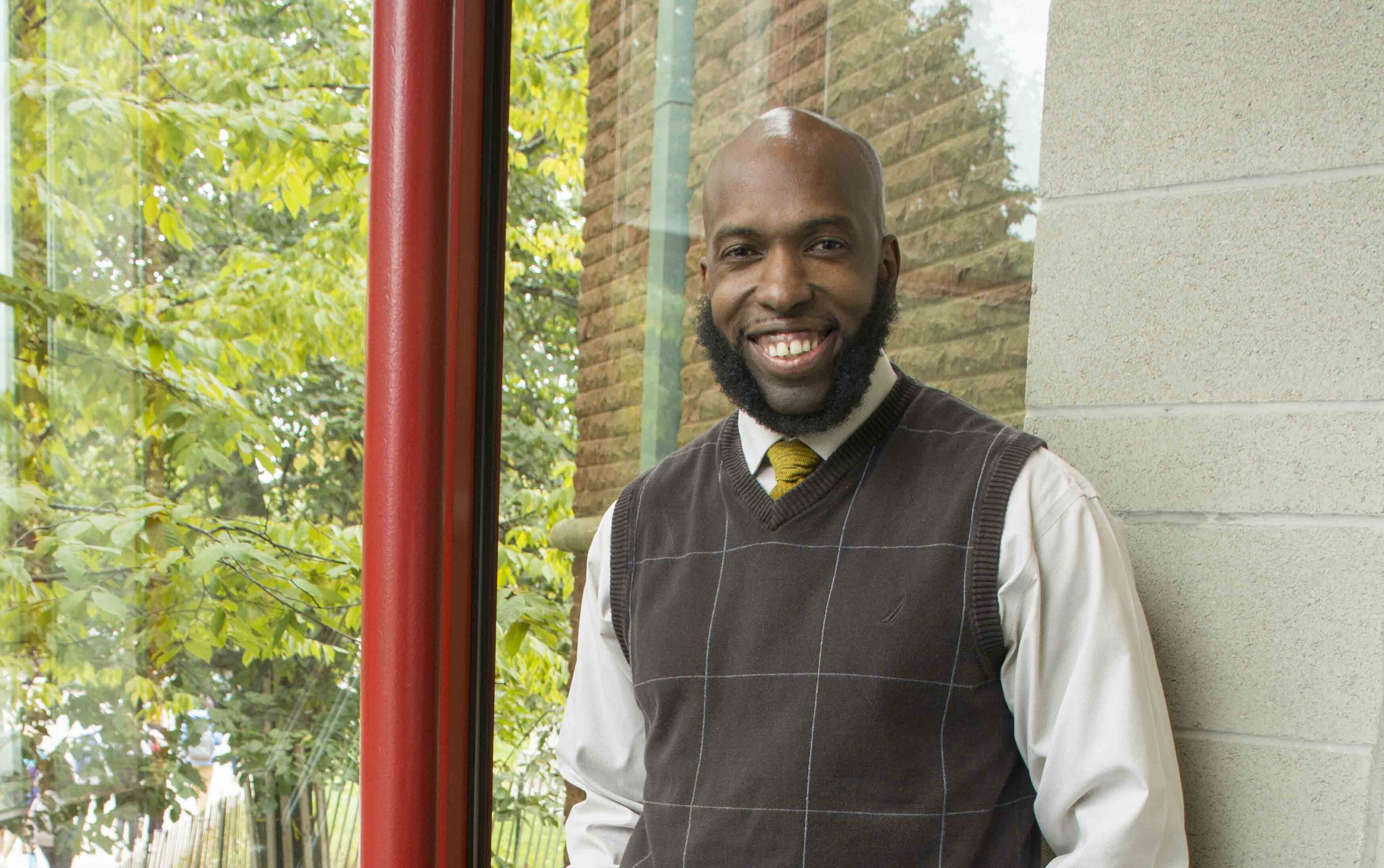 Much More Than Bio 101
In writing a million-dollar training grant for the National Institutes of Health, Bryan Dewsbury, associate professor in biological sciences, found that of the 156 URI STEM students who went on to STEM Ph.D. programs over a 16-year period, only four were underrepresented minorities.
Dewsbury's goal is to change that statistic. He doesn't just teach introductory biology to 150 students a semester – he teaches his students that they can be better than they imagined.
"What inspires me about teaching is not the dispensation of information; it is the awakening of the soul."

–Associate Professor Bryan Dewsbury
Dewsbury's success is documented by the withdrawal and failure rate among his introductory biology students. While large introductory math and science courses have high D, F, and withdrawal rates nationally, his rate is an impressively low eight percent—with no racial gaps.
"Professor Dewsbury's class helped me transition into college courses and to learn more about myself as a person," said Lizmaylin Ramos '20, from Providence. "It reinforced my passion for science, and I learned how to study smarter. I came in as an environmental science major and later switched to double major in biology and psychology. I've been tutoring in biology and psychology for the past few years and I'm looking at post-baccalaureate opportunities in neuroscience."
Dewsbury uses a facilitated learning approach that assesses students' academic preparation, background, and personal ambitions. Then he applies a variety of teaching methods to help them succeed.
"The inclusive teaching approach works especially well with students who are traditionally underrepresented in the STEM disciplines," said Dewsbury. "I am promoting social justice and equity through education by creating an individual connection with my students. I meet them 'where they are' so they can concentrate on learning biology really well."
"Initially I entered URI as an anthropology major. After taking this course I changed my major to biological sciences," said Kristen Dove '21. "This course completely changed the way that I study. I comprehend biological processes rather than memorize definitions, and I utilize this method of studying in my other courses."
Dewsbury connects with students in real-time. He monitors email while he is teaching so he can address student concerns immediately, without singling out individual students. He meets with students one-on-one in residence hall lounges so they don't have to walk across campus to his office.
His position at URI is the culmination of years of academic preparation. He attended Morehouse College and earned a B.Sc. in biology, with a minor in environmental science, and then went on to graduate school at Florida International University. He credits his Ph.D. supervisor, with encouraging his pursuit of teaching within a research university setting rather than doggedly pursuing the more traditional research publication track.
"I was a teaching assistant in the marine ecology program and that changed my trajectory," said Dewsbury. "I realized that teaching was a calling rather than a career track. Professor Koptur was an advocate for the fullness of life and she fully supported my love of teaching.
"I grew up on Trinidad and Tobago and my father is a Baptist preacher," said Dewsbury. "My parents taught me to have a mind of my own. When I had to make a choice between the research track and teaching, I thought the greater good was teaching."
Dewsbury and Associate Professor Niall Howlett were successful in their NIH application and received a $1.2 million training grant, the first student-focused training grant from NIH to URI. It provides a stipend for underrepresented students to work 10 to 15 hours a week in a lab to encourage more students of color to enter the sciences and technology. Most of the grant money goes directly to pay students.
Dewsbury's passion for teaching is making a difference—one class, one student at a time.