Education in the time of COVID
Carlos Fragoso '24 embraces the opportunities available as a Ryan Scholar.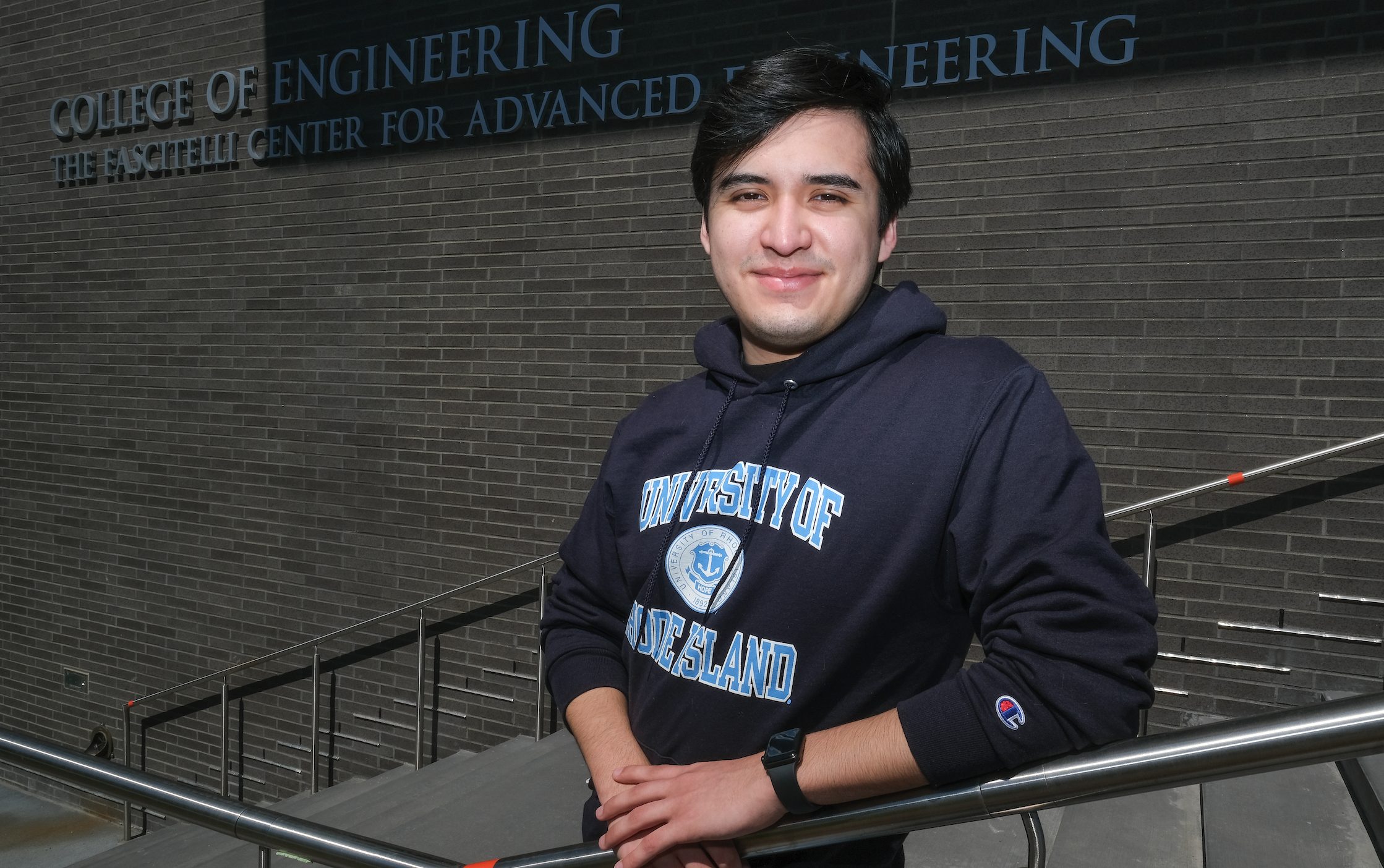 Beginning a new chapter
"I sleep a lot less than I did in high school," said Carlos Fragoso Uriarte '24, one of the seven Ryan Scholars who enrolled at URI in fall 2020. "It's very different living on campus and being in control of your schedule and your choices. And I realized when I was home for winter break that I couldn't wait to get back and see the other Ryan Scholars."
Fragoso, from Johnston, RI, is a double major in chemical engineering and Italian, and he's considering a minor in mathematics or physics. Born in Mexico City, Mexico, his family moved to Massachusetts when he was five years old for his father's job. They moved to Rhode Island about a year and a half later.
Fragoso was originally drawn to URI because of its affordability and the great engineering program. His parents, both engineers, had reviewed the curriculum and encouraged him to apply.
"The Ryan Scholarship was an unexpected honor, and I can't wait to take advantage of the J-term study abroad opportunity."

–Carlos Fragoso '24
"Now that I'm at URI, I'm impressed by how nice it is here and how big the campus is. I've had a great first semester."
He studied in his room to avoid distractions and found that the other Ryan Scholars became his closest friends at URI.
"The Ryan Scholars are a tight-knit group," said Fragoso. "In addition to going through the Leadership Institute together (virtually), we decided to meet for dinner once a week."
Returning to campus in the spring, he decided to join some co-curricular activities. He signed up to play trumpet in the concert band and is considering intramural or club soccer.
Based on his high school resume, Fragoso is used to being active. He tutored students in math and volunteered to do science experiments with elementary school children with autism. He captained his high school soccer team and played trumpet in the All-State Band.
Fragoso credits Assistant Dean of Engineering Jared Abdirkin and Vice Provost Dean Libutti for making his experience at URI such a positive one. "Dean Abdirkin has helped me with my schedule and registration process, and Vice Provost Libutti does so much for the Ryan Scholars."
Fragoso looks forward to a "post-COVID URI." He wants to gain practical experience in the field of energy research, and he is considering earning his doctorate down the road. It looks like he won't have time to catch up on his sleep any time soon.
*The Ryan Scholars Program, which provides a full, four-year scholarship including tuition, fees, housing, dining, books, and one global winter travel J-term experience and enrichment opportunities, was established by Thomas M. '75, Hon. '99 and Cathy Ryan as an endowed fund that will enhance the ability of URI to attract and retain the most outstanding students.