The College of Arts and Sciences
It takes grit
Tuyethlinh Nguyen '22 understands the importance of hard work in achieving her goals.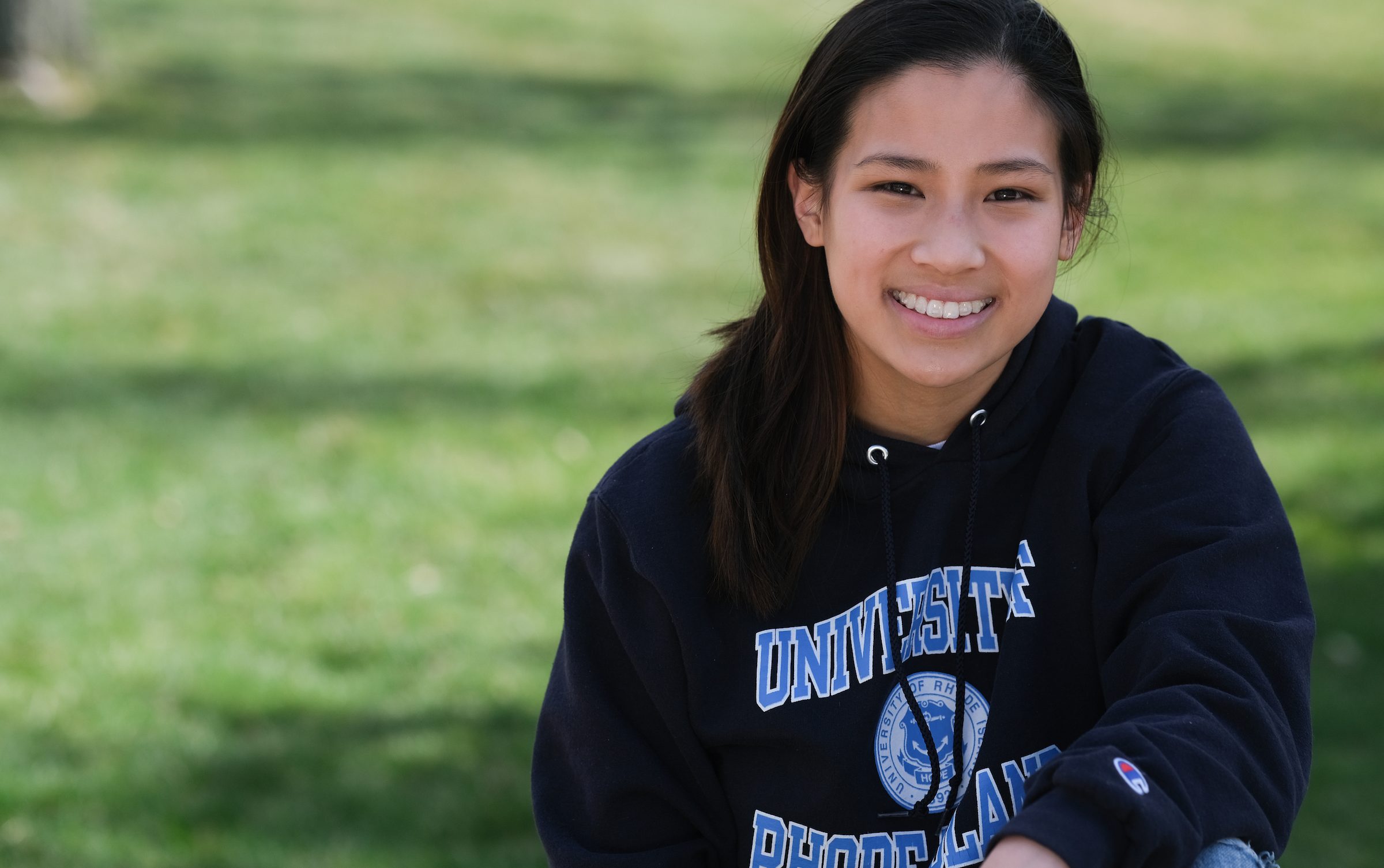 Her eyes on the goal
She wakes up at 5 a.m., heads down to Keaney Gym, and drives with her teammates to the URI Boat House on Narrow River. They carry the boat into the river and Tuyethlinh Nguyen '22 seats herself at the head of the eight-person shell and begins calling orders to her crew teammates.
A double major in computer science and mathematics, the Middletown resident is a first-generation student who understands the importance of determination and hard work to achieve her goals. Her high school teachers and staff helped her with college applications.
"My parents emigrated from Vietnam, and they wanted my brother and me to get a college education," said Nguyen. "I debated whether or not I wanted to stay close to home or go somewhere I had never lived before. URI was the obvious choice financially with the in-state tuition, the scholarships I received, and my financial aid package.
"I was concerned that URI would not differ much from high school because so many in-state students choose URI. However, the more I looked into it, the more I felt like it was where I was meant to be. It offered more opportunities than the other schools I applied to."
In fact, she is completing her undergraduate degree in three years in the accelerated B.S.-M.S. program in applied mathematics, and still has time for different types of learning experiences.
"Dr. Vasilije Perovi? is helping guide me through pursuing the accelerated math M.S.," said Nguyen. "Professor Marco Alvarez has allowed me to sit in on his research group and offered me a job as a web developer."
Nguyen also has made a circle of friends that include many out-of-state and international students. Her URI experiences provide her with a variety of diverse perspectives.
"Sometimes you are given opportunities, and other times you have to make them happen for yourself," muses Nguyen. "I used to be quiet and shy. Some of my friends joined the crew team and they needed a few more coxswains. I said I would try.
"It was the people and their passion for the sport that made me decide to join. It was a family, and I wanted to be a part of it. The hardest part about being on the team for me is the mental strength it takes.
"Becoming the coxswain for the URI club crew team has given me a new level of self-confidence and has taught me to celebrate my successes and learn from my failures."
Beyond her career ambitions, URI has taught her important life lessons.