Double major maximizes her URI experience
Marine biology, ocean engineering, Orientation, and campus rec are almost enough to keep Bailey Jenkins '22 busy
Student Access
The URI Learning Experience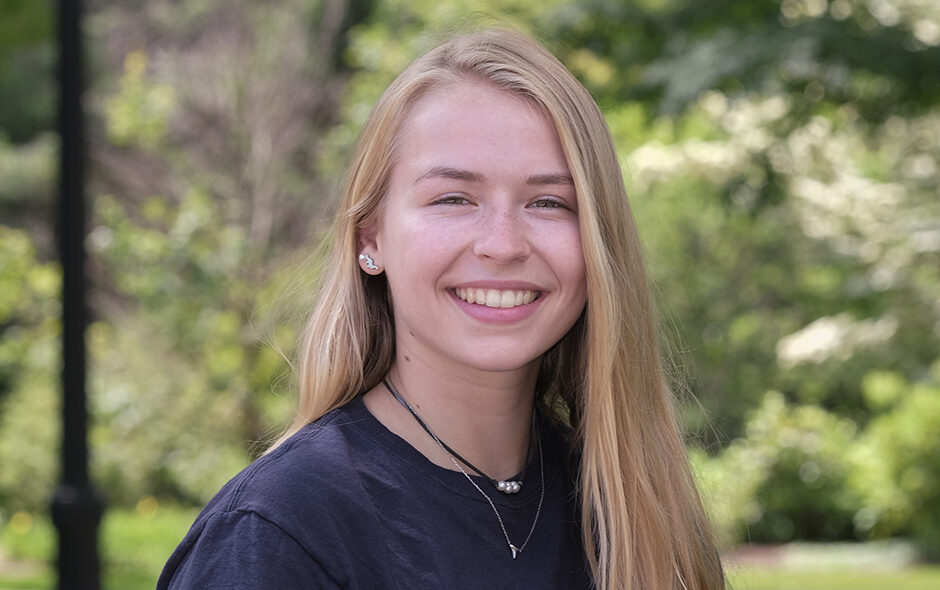 Embracing the full URI experience
Bailey Jenkins '22 took AP physics in high school and struggled with it. But when she came at it again in the context of ocean engineering at URI, she found that she was more than capable.
"I love the ocean and always was interested in sharks. I wanted to study marine biology and the Centennial scholarship I received made it possible to come here. More recently I've received an additional engineering scholarship."

–Bailey Jenkins '22
Adding a second major in ocean engineering to her primary focus on marine biology came as a surprise. "I was taking a general education class with Professor Jaime Palter, from the Graduate School of Oceanography, about how climate change is impacting the ocean. She introduced me to the topic of geoengineering to reverse climate change and caused me to seriously consider ocean engineering."
Jenkins described how enthusiastic Palter was about sharing stories about her research. When Palter went to a national conference, she came back and told the class about new developments in the field. "It was that class that got me excited about ocean engineering. When I started taking the other engineering classes, including physics, I found that I was very capable of doing the work.
"I've also been amazed by the guest speakers we have come to campus. We had George Lauder, a famous Harvard professor who studies biomimetics, come speak at the Bay Campus. His work studying fish and trying to create artificial mechanisms that mimic natural ones has shown me the perfect way to combine both of my majors."
Jenkins, from Rochester, NY, balances her challenging academic interests with a variety of other activities. "I was a three-sport athlete in high school. I knew I wanted to join a club sport when I came to URI so I joined the lacrosse team," Jenkins said. "I have gotten involved with virtually every aspect of Campus Recreation – I could be the poster child. I work out there, participate in club and intramural sports, and I've been promoted to building supervisor at the gym."
As an Orientation leader, Jenkins leads a session about campus recreation and advises incoming students to get involved when they arrive. "I was really busy in high school and I knew when I came to college that I needed to have a variety of activities, not just studying. I'm very social and I like having different circles of friends."
So what happens after graduation? Jenkins is considering her options. She plans to go to graduate school at some point so that she can study sharks, but she may want to explore the opportunities in ocean engineering for a few years. She may add a few more activities along the way.