The path to med school
This honors student has found unexpected pathways at URI
Student Access
The URI Learning Experience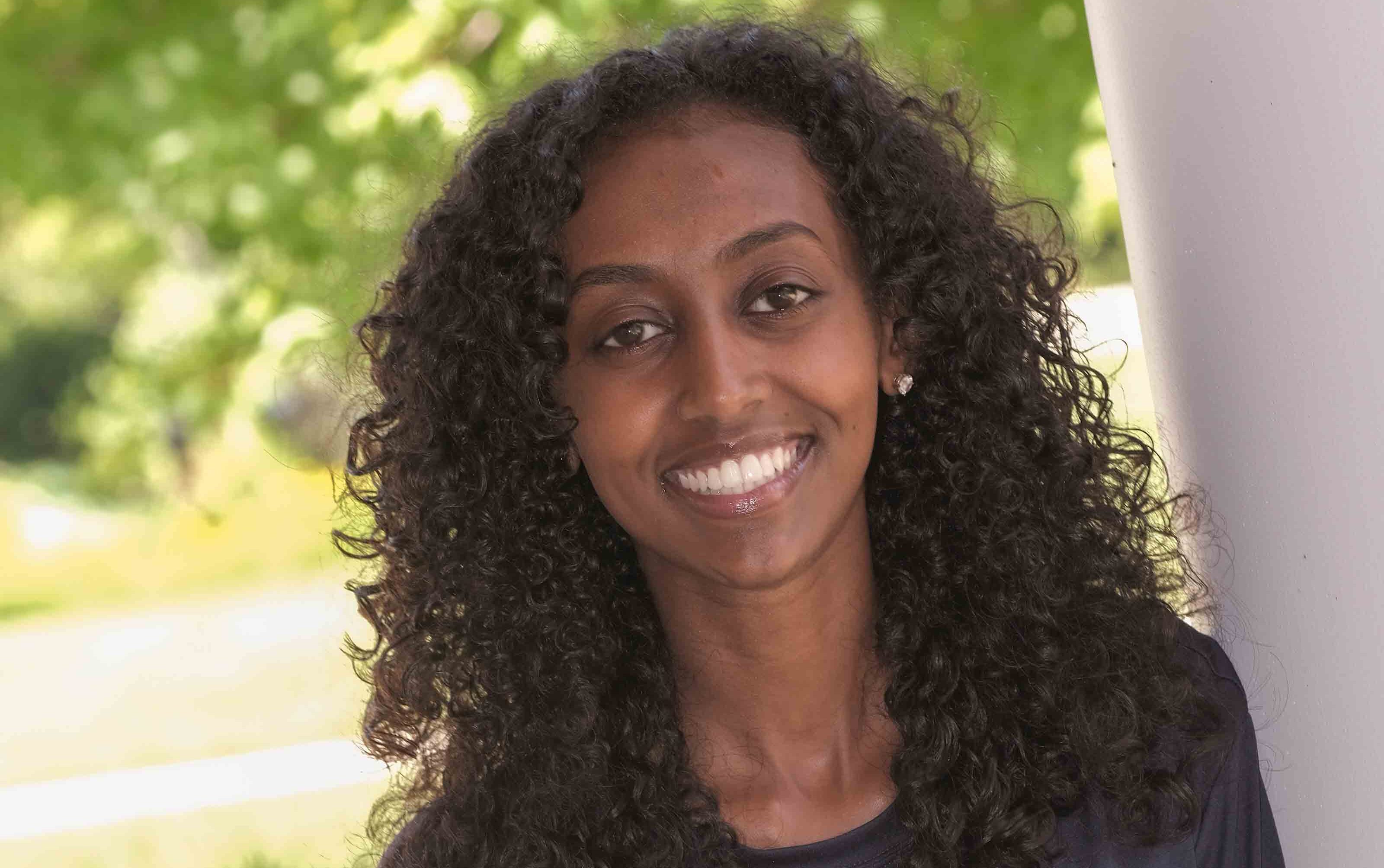 The practical idealist
Seraphina Negash '21 is an idealist with a strong practical bent. In high school, she decided to be a doctor because she believed that people, regardless of income or status, should have access to healthcare.
She was accepted to seven universities. When it came down to making a decision, the finances of paying for college made the University of Rhode Island the most attractive choice for the Providence resident.
"The financial aid I received from URI was essential to my choice," Negash said. Once here, she came to deeply appreciate the "unexpected experiences" that occurred both in and out of the classroom.
Negash enthusiastically talks about her decision as she describes how URI has shaped her path and her understanding of access to healthcare. She speaks fondly of faculty who have challenged her to think more critically, ask tough questions, and who continue to mentor her. In fact, she originally entered as major in Health Studies but decided to also major in Cell and Molecular Biology after receiving some thoughtful advice about the benefits of a STEM (Science, Technology, Engineering, Mathematics) major.
"In my first semester, I took a class on the Black Lives Matter Movement, with Dr. Carnell Jones, who pushed me to step beyond my existing understanding of race in the United States, and then change my thinking to become solution-oriented," Negash said. "The second semester, my class 'Communicating Difference' with Dr. Lynne Derbyshire helped me appreciate the interwoven factors that shape one's status within society, and how it affects almost every aspect of their lives, particularly healthcare.
"These classes helped me understand that the disparity that exists in access to health care is due to a web of issues – social, economic, and political. Being at URI and studying health policy helped me to understand the bigger issues affecting healthcare."

–Seraphina Negash '21
Negash loves URI and found that getting involved on campus forced her out of her comfort zone. She's met a variety of people from outside Rhode Island through the organization Diversifying. Recruiting. Inspiring. Volunteering. Educating. (D.R.I.V.E.). She is also involved with the Multicultural Unity and Student Involvement Council (M.U.S.I.C.). This year, she is secretary of the organization and looks forward to working with students in the coming year. She also serves as an orientation leader.
Financial considerations are still important to Negash, so she applied to become a resident assistant as a sophomore – it was "a logical decision." The position reduces the financial burden of her tuition and allows her to do something she loves – working with and helping her peers. That sense of giving back also encouraged her to volunteer at Clinica Esperanza, a free medical clinic in Providence, Rhode Island. She also works in the pre-health advising office, serving as a resource to other students interested in a career in health.
Medical school is still the goal for Negash. However, this honors student has found that there are many paths to achieve that goal – and URI is playing an important role in her path forward.