Delivering health care abroad opened his eyes
Pharm.D. student expands his skills and worldview with unexpected learning opportunities
Student Access
Innovative and Distinctive Programs
The URI Learning Experience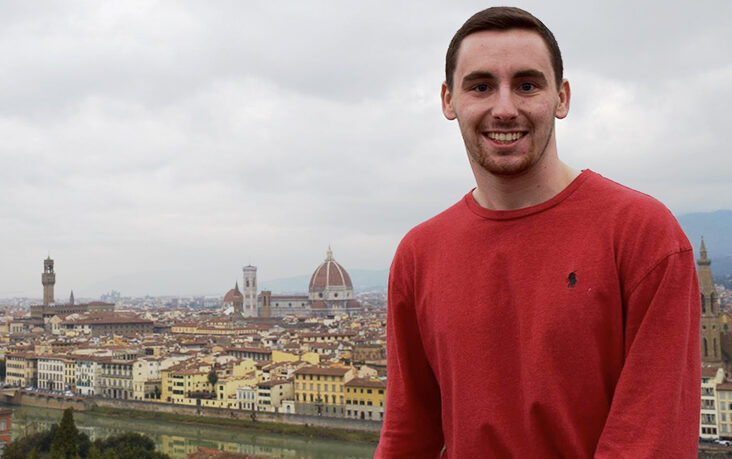 Alternative learning experiences provide dynamic opportunities
Patrick Lee, Pharm.D. '20, visited Jamaica twice during college winter breaks. He wasn't there for sun and surf, he was there with a team of students and faculty to train health care providers on pharmacy protocols.
The trips, organized by Professor Kelly Matson, inspired Lee to present at the American Association of Colleges of Pharmacy (AACP) meeting in fall 2019. He spoke about the importance of alternative learning experiences being included in the pharmacy accreditation process because they can improve learning outcomes.
This type of opportunity was one of the pleasant surprises for Lee when he enrolled at URI. While he knew URI's Doctor of Pharmacy program is a highly regarded, rigorous six-year curriculum, he discovered unanticipated opportunities to expand his skills and worldview.
"I was able to study abroad in Italy for a semester, which is unusual in a pharmacy program," said Lee. "Study abroad and winter break mission trips helped me develop a greater appreciation for people from different backgrounds and cultures," said Lee. "I've learned to be more flexible—you have to adjust on the fly when you are dealing with different kinds of people in a variety of situations."
Lee chose URI because he "liked the culture, the campus, and the location." When he arrived from Bangor, Maine, he was impressed with how carefully his mentor, Assistant Dean Denise Gorenski, listened to his goals.
She's the one who helped him arrange his schedule so he could study in Florence, Italy, and she arranged advanced pharmacy practice experiences that met Lee's career goals—he wants to work in a hospital's pediatric pharmacy and have some type of academic role. His advanced practice experiences have taken him from Maine to Rhode Island, to Sloan Kettering in New York, and to Worcester Medical Center.
"The scholarship I received from URI made all this possible for me."

–Patrick Lee, Pharm.D. '20
"The URI pharmacy program is a unique environment. The students here are collaborative. We each want to excel, and we work together to do our best. The students, faculty, staff, and alumni are all great."
What's his next move? "My goal after graduation is to get a residency in pharmacy that focuses on pediatrics, and I hope eventually to teach."