The Das legacy
Kate Cross-Das M.A. '86 and Debendra Das Ph.D. '84 established scholarships for English and engineering graduate students.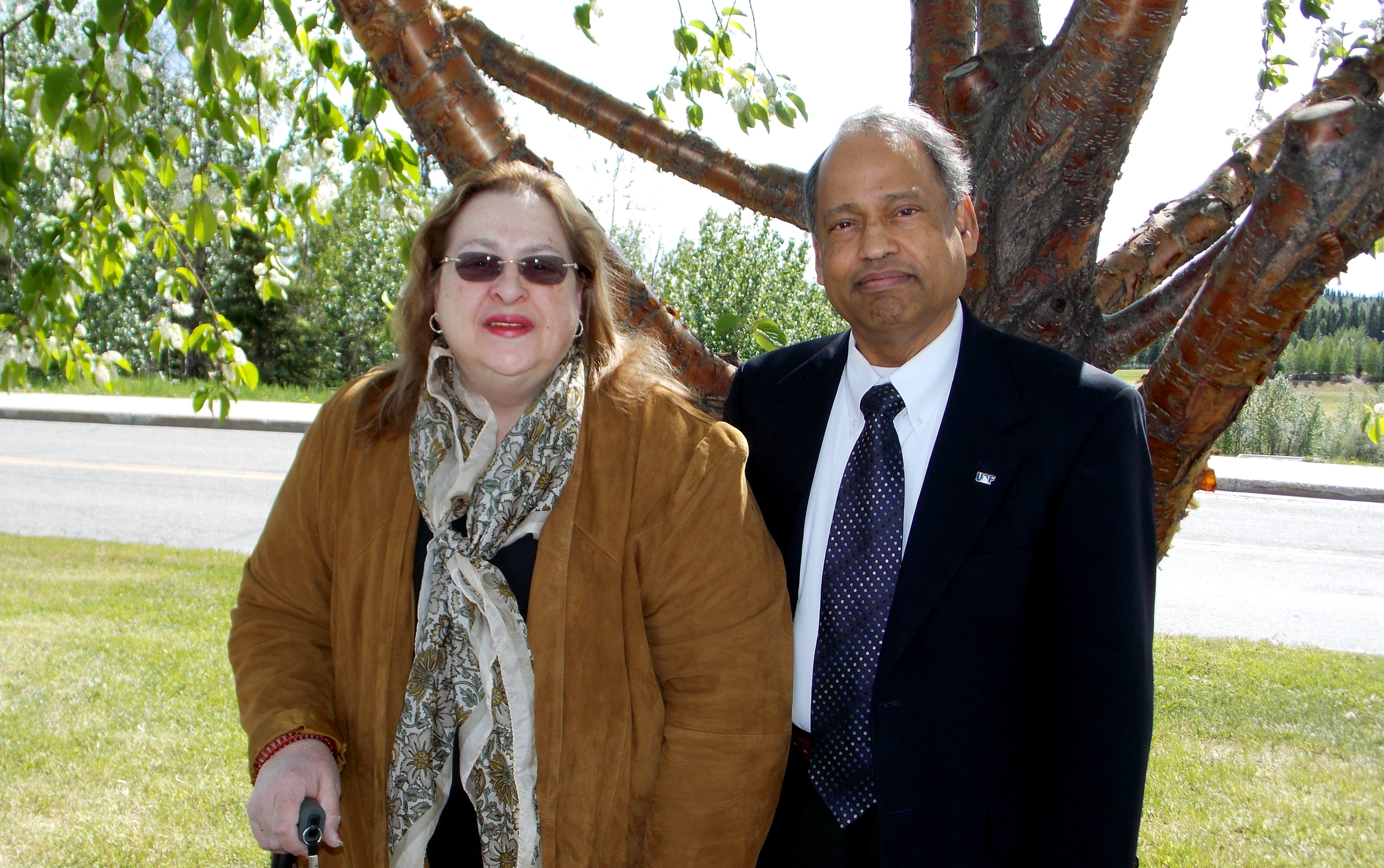 In Pursuit of Dreams
She grew up in Rhode Island. He grew up in India. She loved English and literature. He was fascinated by engineering. Worlds apart and yet they found each other, married, had a son, and made a life in Alaska.
After graduating from URI almost 40 years ago, Debendra K. Das Ph.D. '84 and the late Katherine Cross-Das MA '86 have established two endowed graduate scholarships, for the College of Arts and Sciences and the College of Engineering.
"We were graduate students balancing the demands of our studies and our baby son, Sunit," said Das. "We lived in graduate housing, and I took consulting jobs to supplement our income. I know the financial struggles that graduate students face, which is why I particularly wanted to help engineering students from developing countries."
Das met his future wife while he was in the International House at Brown University. After earning his master's degree from Brown, Das took a job and enrolled in URI's engineering Ph.D. program. He and Kate married and moved onto the URI campus so he could pursue his degree on a full-time basis. Kate decided to earn her master's degree in English.
"Kate and I both greatly valued our URI education," said Das. "She deeply appreciated the support of her professors in developing her creative writing and the completion of her thesis. I had the honor of earning my doctoral degree under the guidance of the late Professor Emeritus Frank M. White, an internationally renowned author and expert in fluid dynamics."
After earning his doctorate, Das took a job in Virginia as a research engineer before deciding he preferred the academic life. He was offered a position at the University of Alaska Fairbanks as an assistant professor of mechanical engineering, and Cross-Das agreed to move to Alaska. Over time, he rose to become professor and chair of the department and she earned a reputation as artist and a dedicated advocate for mental health and for services for people with mental illness.
"Kate and I had discussed the idea of giving back to URI for many years," said Das. "When I retired, I had an IRA and I felt it was my duty to support others. America lifts you up and we need to continue to make progress."
"Graduate education is an essential function of URI's teaching and research mission," said Jeannette E. Riley, dean of the College of Arts and Sciences. "While I did not know Katherine Cross-Das personally, I do know that she and her husband faced the financial challenges that affect many graduate students. They wanted to ease that burden for students of English and engineering."
"Dr. Das recognizes the immense impact of scholarships for graduate students and particularly those from developing countries," said Anthony J. Marchese, dean of the College of Engineering. "This scholarship will assist those students to make it possible for them to return to their own countries and help build the physical and intellectual infrastructure. This is an investment in global development."
"We both believed in the importance of giving back to the institution that helped us to achieve our goals," said Das. "In my mind, URI is one of the best state universities there is in the country based on the quality and cost of the education."
**Kate and Debendra were married for 43 years when she passed away on May 21, 2021. The Das's son, Sunit, and his wife, Michelle, have a daughter, Supriya.