Working to save lives
Professor Anita Jacobson is leading an effort to educate communities about opioid addiction and providing resources to save lives.
Transformative Faculty Leadership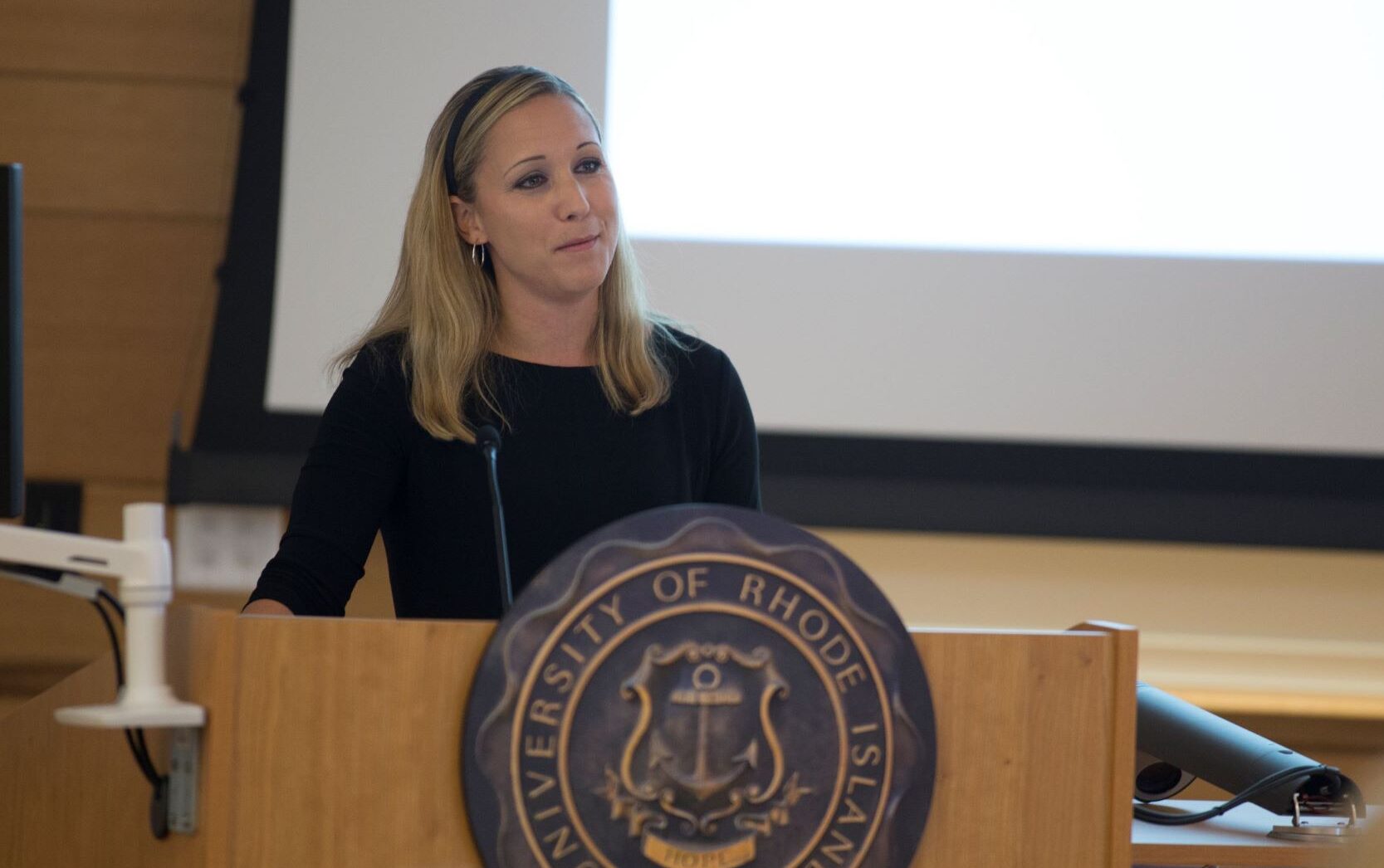 384 people in Rhode Island died from opioid overdoses in 2020, the highest number ever recorded in the state. Anita Jacobson Pharm.D.'98, a clinical professor in the College of Pharmacy, is leading an interdisciplinary and inter-agency effort to address the crisis.
Jacobson became interested in behavioral healthcare, substance use disorders, and harm reduction while studying at URI. Now, as director of the Community First Responder Program (CFRP), she is attracting local and national resources to train people around the state and provide naloxone (also known as Narcan) supplies, used to prevent overdose deaths.
The CFRP began with a $1 million grant in 2019 from the federal Substance Abuse and Mental Health Services Administration to focus on educating rural communities and provide resources to address the opioid crisis.
The Rhode Island Foundation recently awarded the CFRP a $250,000 grant to purchase approximately 3,000 Narcan overdose prevention kits to be distributed throughout the state. The CFRP has distributed 6,000 kits since 2020. Individuals and organizations can get more information and request training and/or kits at uri.edu/CFRP.
The grant comes at a time when Narcan supplies are seriously depleted, to fill the gap until more funding can be found. The funding provides about a three-month supply to cover the needs of the population. The Foundation and CFRP are encouraging individuals and organizations to help fund this initiative and ensure Rhode Island has the resources to address this deadly crisis.
"The nature of our previous funding restricted our naloxone distribution efforts to rural areas of Rhode Island," said Jacobson. "This grant enables us to go wherever there is a need. When it comes to the drug overdose and addiction crisis, there are no borders."
"People are often exposed to opioids for legitimate medical reasons and go on to develop a dependence." Jacobson noted that anyone taking prescribed opioids should also have naloxone on hand because "mistakes can happen."
The CFRP has led community trainings about opioid misuse and substance use disorder and shared information at public events. They have held more than 250 outreach booth events and live trainings in rural communities around the state.
"We want to have as many people as possible to be community first responders," Jacobson said. "If people are educated about this and know how to recognize an overdose and how to recognize if someone is caught in the cycle of substance use disorder, we can save lives."
The funding for the Rhode Island Foundation's grant comes in part from the Behavioral Health Fund, which was created with funding from Blue Cross & Blue Shield of Rhode Island.